1989 740 Turbo
Submitted by

volvodan

on Mon, 06/11/2012 - 22:02
My 1989 Volvo 740 Turbo
R.I.P.
Here are some more detailed pictures of some of the things that I have done to my beloved car, it all started as a basic 1989 VOLVO 740 Turbo.  It is the with black leather.

Swedish Steel...Need I say more?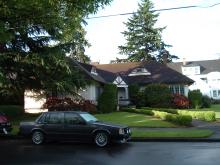 This is a great shot.  At a friend's house in Portland, OR.  The dew in the morning was great and it didn't leave any water spots.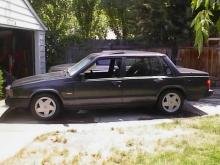 Here is an older picture with the Volvo 16" Hydras on it. Not a bad set of rims but it just didn't have the flair that I ultimately wanted.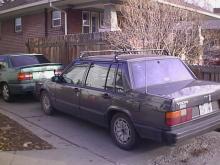 This is the winter mode...studded 195/60 R15's on Volvo alloys without  the large chrome  hubcaps, also the Thule rack and typical Utah winter   road spray add to the look.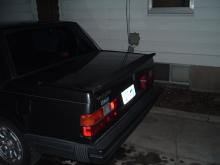 A new addition to the car....and a LONG awaited one at that.  It is a factory Volvo trunk spoiler...It is GREAT, a slight pain to install but worth all the time.
This was a very long and tedious process, but it is a very sporty upgrade.  The seats are out of an 850, they are grey leather and I dyed the cloth centers black.  I am planing on making a write up with more info soon, keep and eye out for a link.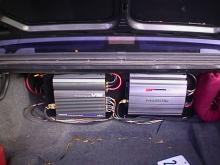 This is the heart of my stereo system, the Optimus amp is a 2-channel for the Dual Coil 12" JBL, and the 4-Channel Alpine runs the Blaupunkt components and stock door speakers inside the car.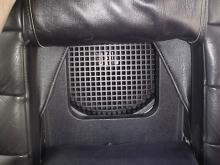 "Peak-A-Boo"  What more need be said....
This is a Dual Coil 12" JBL Sub...In a sealed box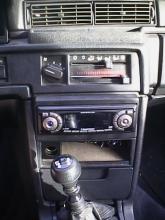 The Blaupunkt Miami Beach, I chose this for a few reasons...I liked the black faceplate in the interior, I LOVE the Blaupunkt spinner controls and besides, a European car NEEDS to have a German stereo.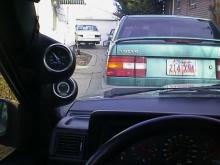 It's not easy to see from the picture but I custom built 2 pods to house the Autometer Carbon Fiber boost and Air/Fuel Ratio gauges. I wired them so the come on when I turn my lights on. These are a MUST when ANY tuning is done...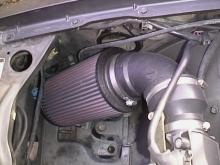 A 3" exhaust system needs to get air somehow...I chose this K&N filter because of it's size, coming soon, I will build a heat shield, which is a HUGE advantage in the summer time to keep the hot air from the motor away from the intake, it isn't really needed too much in the winter.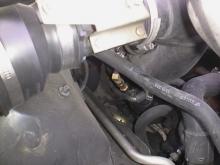 This is a tight picture of the MBC installed (the Brass hardware in the center) I sell these for $15 if you'd like to increase your boost, I have my boost set at just over 17 psi, I will be turning it down soon, at least until I add some additional fuel injectors, which will most likely come this summer.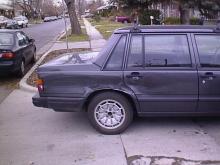 This is what happens when a Typical Utah Soccer Mom in her Boyfriend's SUV wants to make a U-Turn, she didn't seam to care that I had the right of way...Here are some pictures of the rebuild and re-paint...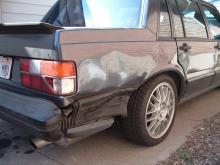 What happens JUST after rebuilding and repainting a car that you LOVE... Yet another female SUV driver (please don't ask how I feel about SUV's)... 5 blocks from my house a young woman feel that Stop signs are optional... It impacted so had that it ripped an amp right of it's mount... But I win, she lost the entire front end of her Jeep Liberty and I didn't have to pick up any parts from the street...