Walbro Fuel Pump
Submitted by

volvodan

on Thu, 06/07/2012 - 19:58
Installation of Walbro High Performance Fuel Pump
(This is from my 1989 Volvo 740 Turbo)
This was a long time coming and it turned out to be a nice addition to the car... It is a good pump and nice and quiet too...  I hope that this information will be helpful, keep in mind that there are subtle differences in all the Volvos so your installation might vary from what I did.  I have tried to include all that I could to help out... Click on the images to view them full size...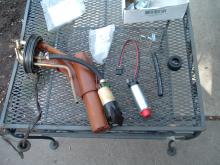 This is where to begin, the sending unit out of my car and the new Walbro unit and the installation kit for it....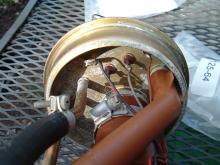 This is a close up of the wires that go to the pump and the fuel level sensor.  The RED and BLACK wires are for the original fuel pump.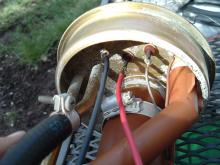 AFTER letting the pump air out over night I used a soldering iron to remove the old (Smaller) wires and replaced them with the wires that came with the installation kit.  It has a much heavier gauge so that it can carry the higher amperage without any problems.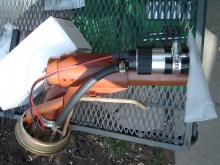 Here is the finished unit completely installed.  The old pump had a smaller diameter so I cut the plastic sleeve.  I used a stainless steel hose clamp to hold the pump itself in place.  The old fuel line was the perfect size for re-use (please note modifications to that below...
Here is the by-pass hose that I had build for the main fuel pump.... At one end the banjo fitting from the fuel pump-to-filter hose off the car.  Then 18" of high pressure fuel line.  Finally, a 1/2" barb fitting that makes for a very tight fit but it works great.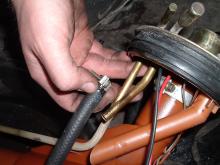 After a hard launch one night, the car stalled, I chased my tail for a bit trying to find why it wasn't running, end result... no gas, but the pump was turning on, I could hear it.  It turns out that the pump pushed the hose right off the sending unit.  After pulling the tank again I found the lack of a flare on the tube, SO.....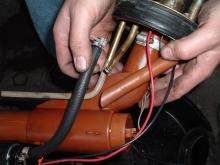 With a bit of persuasion I was able to get the flaring tool on it and put a small flare in the end.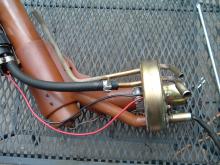 After the flare, I reset the hose in a new location on the hose and the pump has been running great.