R1150R
Submitted by

volvodan

on Thu, 08/19/2004 - 07:40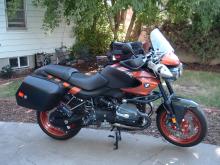 If I'm only on 2 wheels it's on my Beemer, this is my new (To me) 2004 R1150R Rockster.
I loved my old K-bike but I do prefer the touring stance that the R has, I've put lots of miles on it and will post some pictures for proof, enjoy!
This is my 'Toy', All my life I wanted to have a motorcycle, I just never knew it would be this FUN!  The 2004 BMW R1150R Rockster!  And you can't beat these colors!  It has some small mods and me being who I am, I will add more as time passes.  As those come I'll add pictures, for now here it is...
The First is up East Creek Canyon just east of Sal Lake City, Utah.  This is the first ride I took on it.
The next is Stu and I looking at Scott's (taking the picture) BMW Z4.   This was taken at the South West corner of Wyoming, at the end of Chalk Creek Canyon.  There is a Red Rock pilar (to the right of my helmet) that is the actual corner marker of the two states.  On the typical rides that we take, Scott leads and I follow on my bike while Stu cruises with the top down.. He's still needs the traing wheels. : )
The last two are some pictures of my old BMW 1993 K1100RS... Along with it's demise, It lives on though, A new friend of mine is rebuilding it.
There are 2 kinds of Motorcycle riders... Those that have been down, and those that will go down...I'm now the first group...All things considered.. Not too bad, the only broken parts are the saddle bag and my ego, just some scratches.